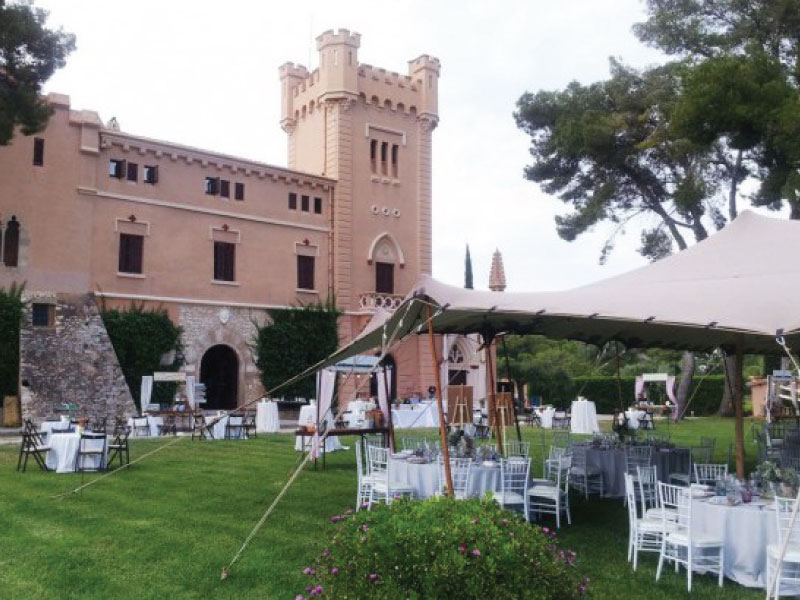 If you are looking for a different experience in a unique setting surrounded by nature and away from noise, Tower Veguer is your best option.
A few minutes from Sitges and Barcelona, ​​surrounded by 15 hectares of vineyards is the building of eclectic style, built for the most part during the nineteenth century on the basis of an old "stronghold" medieval previous year 1359, which are preserved some elements that bear witness to the age of the building.
We have a very wide variety of areas suitable for the needs involving meetings and incentives.
The oldest part of the house, there is the Hall in 1359 characterized by its rustic decor with medieval elements, which include semicircular arcs crossed. An idyllic place for lunch and dinner in small committee. Maximum capacity for banquets, 45 people.
If you move into the interior of the building, found the cellar and Sala Dali, two charming spaces for cocktails, snacks and tastings. The old wooden and iron presses the barrel room with the "stone press" certify the time domain of the monks in the fifteenth century Jeronimos
In the large garden of the house is the multipurpose room Muscat, with large windows and magnificent views of the vineyards and the sea. An ideal venue for meetings, lunches, dinners, marriages, with a capacity of 115 people.
Furthermore the garden of 2000 m2 invites all kinds of celebrations for its superb and quiet environment that conveys.
Next to the garden and to complement the room Muscat is the pool area, where we offer the possibility of coffee breaks, snacks and chill out in the open air.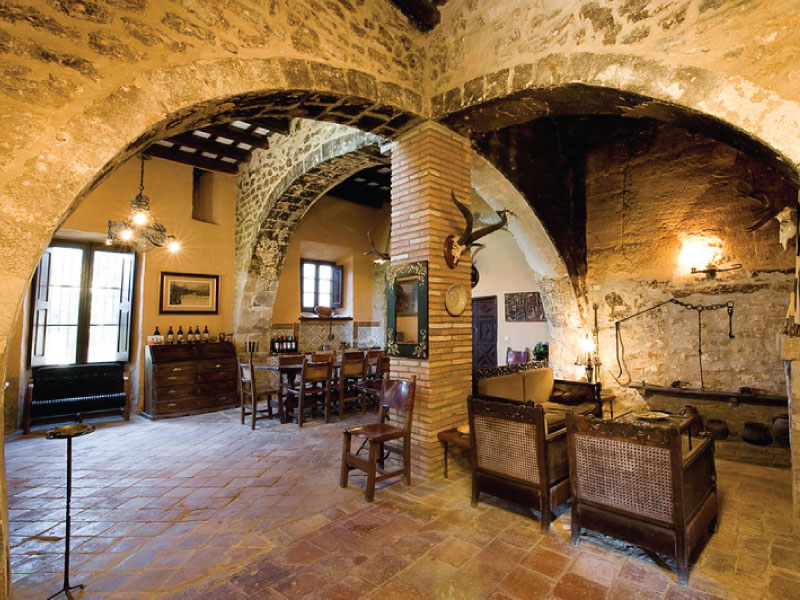 Sala 1.359
Old building called "Quadra de Cortey" the fourteenth century Romanesque arches crossed. Rustic decor with medieval elements. A room for all kinds of events.
Capacity Banquet: 44 people
Annex banquet: 60 people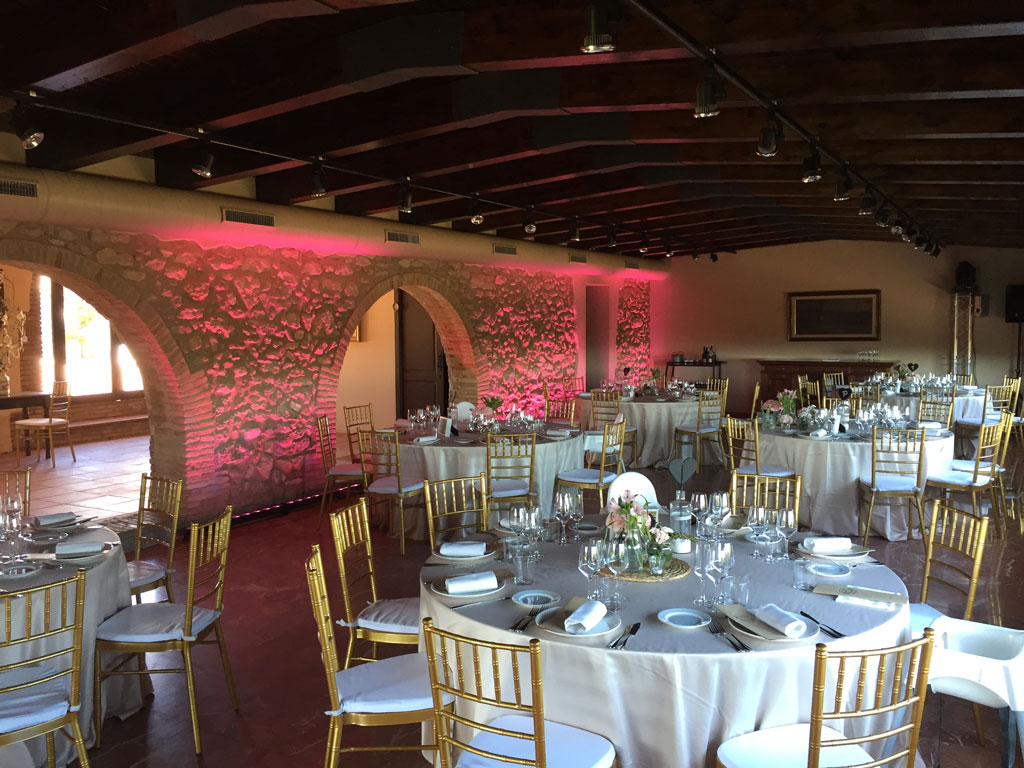 Sala Muscat
Old courtyard where dried grapes for sweet wine. Room Muscat is a fully multipurpose hall for presentations, marriages, weddings …
School capacity: 100 people
Capacity Banquet: 90 people
Muscat Annex Room: 25 people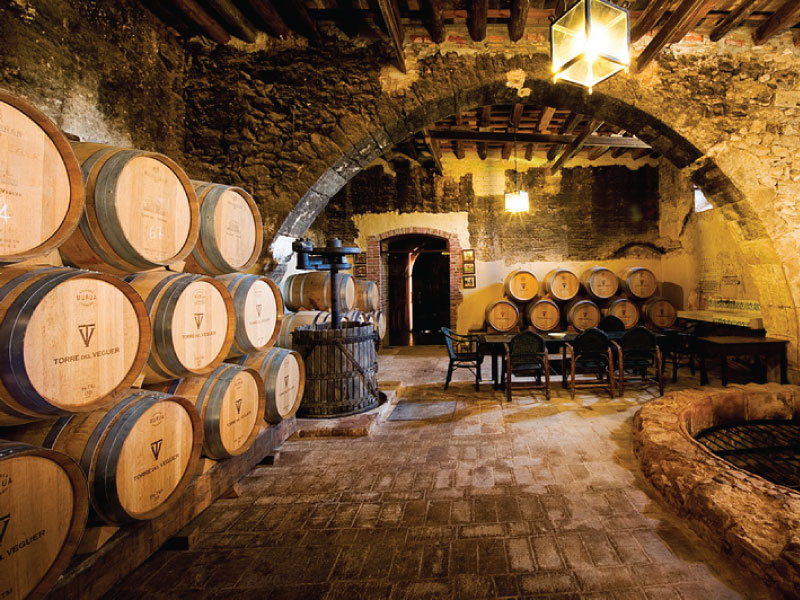 Winery
Its origins date back to the fifteenth century when the Jeronimos monks who at the time lived in the tower Veguer began to cultivate grapes. Every corner of this small winery has a history as well as original records. The wine is aging in French oak barrels, American and Hungarian.
Tasting room for special occasions.
Capacity Cocktail: 80 people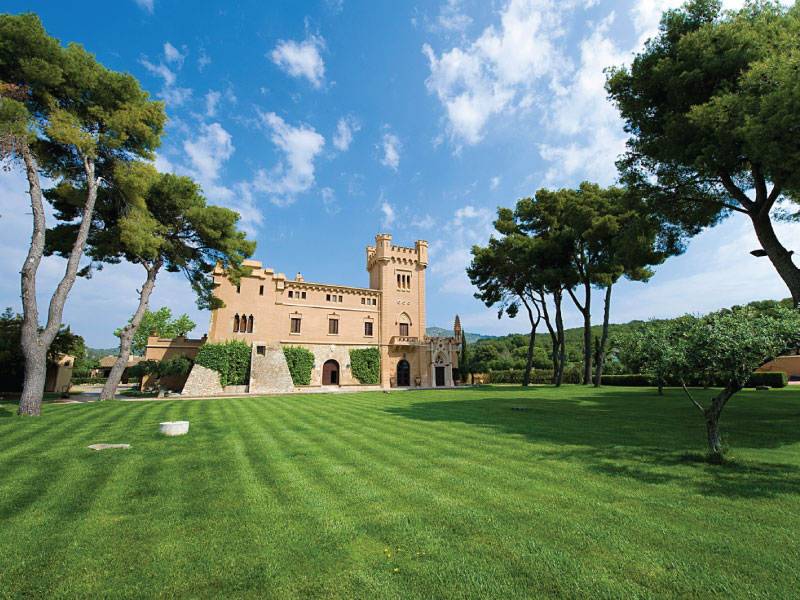 Garden
Area 2,000 m2. Overlooking the Tower of Veguer and south views of the vineyard of Foix and the Mediterranean Sea. Renting this space gives exclusive right to use this spectacular outdoor area of 2000m2 Tower Veguer.