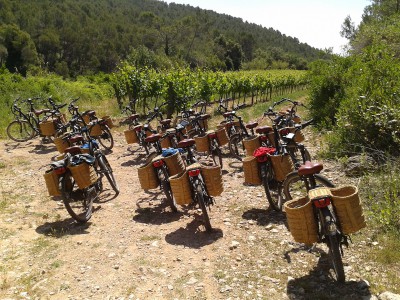 Slow travel is a way to enjoy your travel. Is the unhurried tourism, knowing the destination deeper, meeting locals and its traditions. Due to the hectic lifestyle that almost all of us lead, rushing up and down, stressed and on our nerves, a new way of travelling is getting more popular to break the routine and enjoy some sort of peace and quietness. At the same time you can know different lifestyles and customs, this is slow travelling.
The vineyards match perfectly with this more relaxing kind of tourism, focused on enjoying the landscape. Walking between the vineyards is a relaxing activity and let us watch vine´s evolution depending on the period of the year. In January the vines are pruned and in April the budding starts. The grapes get their optimal ripening between the end of August and September, when the harvest takes place! It is interesting to walk through the vineyards in this period, to listen the tractors working, participate in some grape picking, to meet some wine producer and even tasting different grape varieties.
There are several possibilities to go deep into the vineyards and the viticulture, and we want to do emphasis in a nonpolluting, comfortable and for all public transport: the electrical bike. The electrical bike let us run through narrow vineyards paths, enjoying the pretty landscapes and its colours, yellow and green in Spring and Summer, orange and red tones in Autumn. The electrical bike is a clean and comfortable transport, so it is suitable for slow travel tourism. Good to remember that Torre del Veguer´s philosophy at the vineyards is organic agriculture.
Torre del Veguer winery offers you to enjoy a day off around the vineyards, riding an electrical bike, to know deeper the work done at the vineyards, to watch the vegetative cycle of the vines and doing a relaxing tourism and enjoying the present paying special attention on the feelings and the emotions without judging them (Mindfulness).
You just have to gather a group of minimum 15 people and we organize you a ride on burricleta (e-bike). You will go across Garraf´s vineyards during 1 hour and finish visiting Torre del Veguer, catalogued as heritage for la Generalitat de Catalunya. You will be able to visit the winery´s facilities and taste the wines made in this unique building.